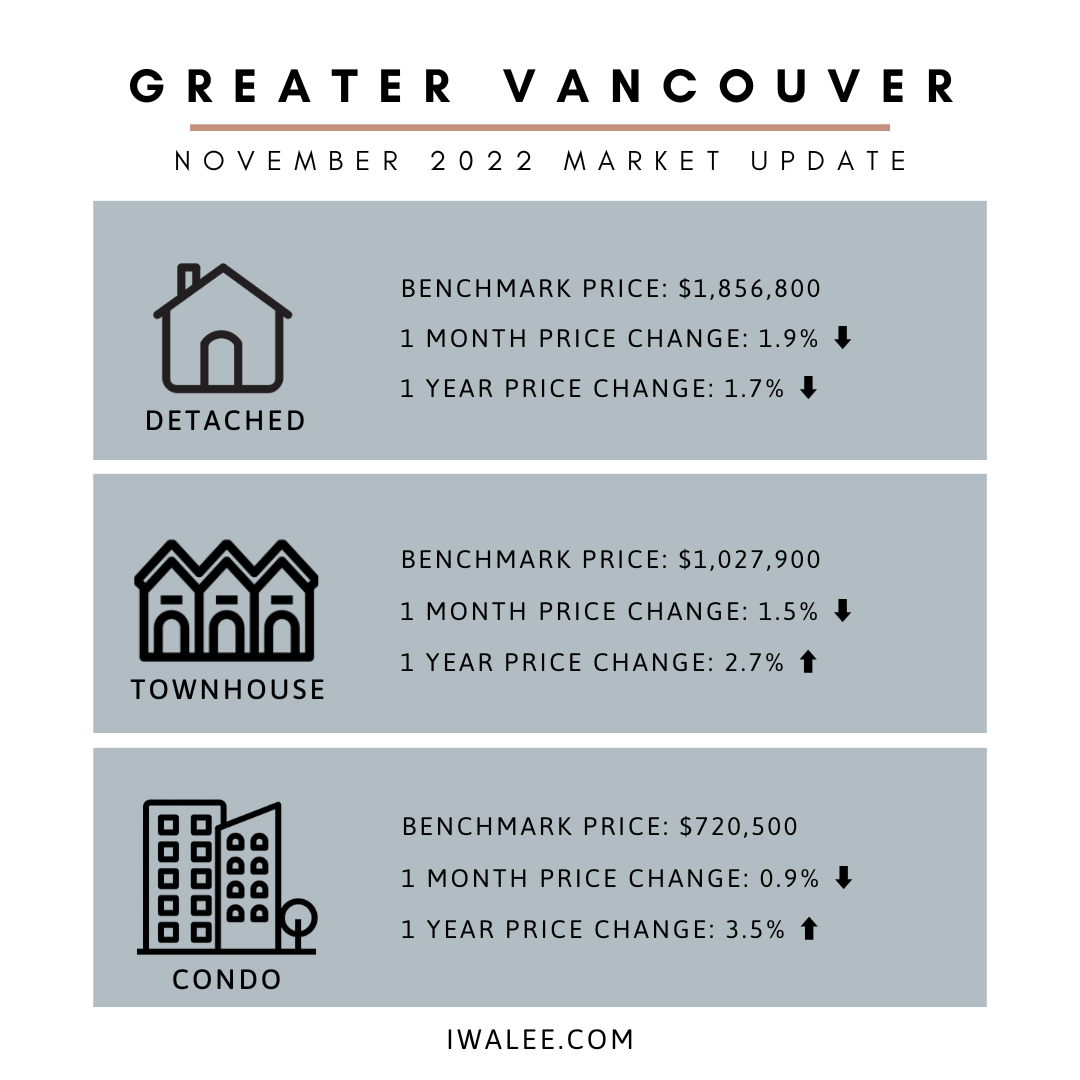 While typically a quiet month of market activity based on seasonal patterns, November home sale and listing totals lagged below the region's long-term averages.

The Real Estate Board of Greater Vancouver (REBGV) reports that residential home sales in the region totalled 1,614 in November 2022, a 52.9 per cent decrease from the 3,428 sales recorded in November 2021, and a 15.2 per cent decrease from the 1,903 homes sold in October 2022.

Last month's sales were 36.9% below the 10-year November sales average.

"With the most recent core inflation metrics showing a stubborn reluctance to respond significantly to the furious pace of rate increases, the Bank of Canada may choose to act more forcefully to bring inflation back toward target levels." Andrew Lis, REBGV's director, economics and data analytics said. "While it's always difficult to predict what the bank will do with certainty, this persistent inflationary backdrop sets up the December 6 rate announcement to be yet another increase, making holiday-season home sales something many people may end up foregoing this year."

There were 3,055 detached, attached and apartment properties newly listed for sale on the Multiple Listing Service® (MLS®) in Metro Vancouver in November 2022. This represents a 22.9 per cent decrease compared to the 3,964 homes listed in November 2021 and a 24.2 per cent decrease compared to October 2022 when sellers listed 4,033 homes.

The total number of homes currently listed for sale on the MLS® system in Metro Vancouver is 9,179, a 28.5 per cent increase compared to November 2021 (7,144) and a 6.8 per cent decrease compared to October 2022 (9,852).

"Heading into 2023, the market continues the trend of shifting toward historical averages and typical seasonal norms," Lis said. "Whether these trends continue will depend on looming economic factors and forthcoming housing policy measures on the horizon, which hold the potential to reignite uncertainty in our market.

"With that said, from a long-term structural standpoint, the current pace of listings and available inventory remain relatively tight when considered against a backdrop of continued in-migration to the province. With the recently announced increase in federal immigration targets, the state of available supply in our market remains one demand surge away from renewed price escalation, despite the inflationary environment and elevated mortgage rates."

For all property types, the sales-to-active listings ratio for November 2022 is 17.6 per cent. By property type, the ratio is 13.2 per cent for detached homes, 19.7 per cent for townhomes, and 20.8 per cent for apartments.

Generally, analysts say downward pressure on home prices occurs when the ratio dips below 12 per cent for a sustained period, while home prices often experience upward pressure when it surpasses 20 per cent over several months.
New listings lag as Fraser Valley real estate market sees third month of declining sales.
With sales down almost seven per cent from October, and new listings off by more than 20 per cent, the Fraser Valley housing market continues its slowing trend heading into the holiday season. Despite the market slowdown, opportunities are available, as evidenced by brisk turnover time frames.
In November, the Fraser Valley Real Estate Board (FVREB) processed 839 sales on its Multiple Listing Service® (MLS®), a 6.9 per cent decrease compared to October and a decrease of 57.5 per cent compared to November 2021.
"The trends we've seen over the past several months will likely continue through to year-end," said Sandra Benz, President of the Fraser Valley Real Estate Board. "While rate hikes have effectively put many buyers and sellers in a holding pattern, we're still seeing relatively quick turnover for all housing categories, indicating robust opportunities for properties that are strategically priced."
The Board received 1,703 new listings in November, a decrease of 22.1 per cent compared to October 2022 and a decrease of 18.8 per cent compared to last year. The month ended with a total active inventory of 5,330, a 5.5 per cent decrease compared to October, and 74.9 per cent more than November of last year.
"The market continues to tighten in response to rising interest rates," said Board CEO Baldev Gill. "As a result, individuals are facing additional levels of uncertainty regarding the decision to buy or sell a home, underscoring the importance of seeking advice and guidance from a local REALTOR® to mitigate the risks involved."
Across Fraser Valley in November, the average number of days to sell a single-family detached home was 34 days and a townhome was 28 days. Apartments took, on average, 27 days to sell.
Get in touch with Iwa if you want to know specifically about any areas, property types, or trends that you can take advantage of.