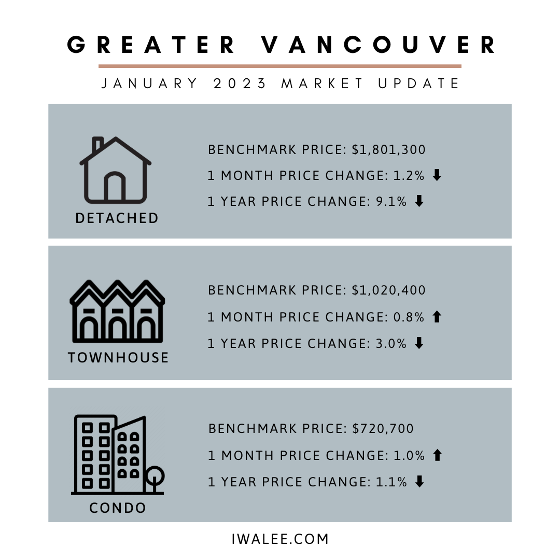 Inventory remains low in Metro Vancouver while home sales dipped well below monthly historical averages in January.
The Real Estate Board of Greater Vancouver (REBGV) reports that residential home sales in the region totalled 1,022 in January 2023, a 55.3 per cent decrease from the 2,285 sales recorded in January 2022, and a 21.1 per cent decrease from the 1,295 homes sold in December 2022.
Last month's sales were 42.9 per cent below the 10-year January sales average.
"Due to seasonality, market activity is quieter in January. With mortgage rates having risen so rapidly over the last year, we anticipated sales this month would be among the lowest in recent history," said Andrew Lis, REBGV's director, economics and data analytics. "Looking forward, however, the Bank of Canada has said that it will pause further rate increases as long as the incoming economic data continues to support this policy stance. This should provide more certainty for home buyers and sellers in the market."
There were 3,297 detached, attached and apartment properties newly listed for sale on the Multiple Listing Service® (MLS®) in Metro Vancouver in January 2023. This represents a 20.9 per cent decrease compared to the 4,170 homes listed in January 2022 and a 173.4 per cent increase compared to December 2022 when 1,206 homes were listed.
The total number of homes currently listed for sale on the MLS® system in Metro Vancouver is 7,478, a 32.1 per cent increase compared to January 2022 (5,663) and a 1.3 per cent increase compared to December 2022 (7,384).
For all property types, the sales-to-active listings ratio for January 2023 is 13.7 per cent. By property type, the ratio is 10.2 per cent for detached homes, 13.4 per cent for townhomes, and 16.7 per cent for apartments.
Generally, analysts say downward pressure on home prices occurs when the ratio dips below 12 per cent for a sustained period, while home prices often experience upward pressure when it surpasses 20 per cent over several months.
"We know the peak for prices in our market occurred last spring. Over the coming months, year-over-year data comparisons will show larger price declines than we've been reporting up to now," said Lis. "It's important to understand that year-over-year calculations are backward-looking. These price declines already happened, and what we are seeing today is that prices may have found a footing, even if it's an awkward one sandwiched between low inventory and higher borrowing costs."
The MLS® Home Price Index composite benchmark price for all residential properties in Metro Vancouver is currently $1,111,400. This represents a 6.6 per cent decrease over January 2022 and a 0.3 per cent decrease compared to December 2022.
Fraser Valley real estate sales record slowest annual start in ten years; January new listings lowest in over thirty years.
The downward trend in Fraser Valley real estate sales continued in January as further interest rate hikes kept buyers sidelined.
With 626 transactions processed on the MLS®, sales were off by 12.6 per cent compared to last month and down by 52.2 per cent compared to this time last year. The last time January sales were this low was in 2013 at 617 sales.
"Buyers are understandably cautious, which explains the slow start to the year," said Sandra Benz, President of the Fraser Valley Real Estate Board. "That said, the pent-up demand that has been building since the last quarter of 2022 will likely give rise to a sales uptick, especially if rate hikes subside, which we expect will be the case."
Although new listings saw an increase of 128.3 per cent over last month to 1,833, they are at the lowest level of new supply for January since 1984. Active listings rose slightly up 5 per cent to 4,118 over December 2022 and up by 76.6 per cent compared to this time last year.
"We also expect inventory to start increasing over the coming months as sellers act on decisions that have been on hold, waiting for rates to peak" added Benz. "As we start to see greater selection across all property categories, we should see demand pick up."
At $942,200, the composite Benchmark home price continued to edge downward, slipping by 1.4 per cent from December and off by 15.1 per cent compared to January 2022.
"After a market slowdown for the past several months, the Board is expecting a return to seasonal activity leading into spring," said FVREB CEO Baldev Gill. "With rates still elevated, however, buyers and sellers would be well- advised to seek out the guidance of a professional REALTOR® to determine the best strategy and timing to take advantage of the anticipated market upswing."