Home sale activity across the Metro Vancouver housing market continued to trend well below historical averages in October.

The Real Estate Board of Greater Vancouver (REBGV) reports that residential home sales in the region totalled 1,903 in October 2022, a 45.5 per cent decrease from the 3,494 sales recorded in October 2021, and a 12.8 per cent increase from the 1,687 homes sold in September 2022.

Last month's sales were 33.3% below the 10-year October sales average.
"Inflation and rising interest rates continue to dominate headlines, leading many buyers and sellers to assess how these factors impact their housing options," Andrew Lis, REBGV's director, economics and data analytics said. "With sales remaining near historic lows, the number of active listings continues to inch upward, causing home prices to recede from the record highs set in the spring of 2022."

There were 4,033 detached, attached and apartment properties newly listed for sale on the Multiple Listing Service® (MLS®) in Metro Vancouver in October 2022. This represents a 0.4 per cent decrease compared to the 4,049 homes listed in October 2021 and a 4.6 per cent decrease compared to September 2022 when 4,229 homes were listed.

The total number of homes currently listed for sale on the MLS® system in Metro Vancouver is 9,852, a 22.6 per cent increase compared to October 2021 (8,034) and a 1.2 per cent decrease compared to September 2022 (9,971).
"Recent years have been characterized by a frenetic pace of sales amplified by scarce listings on the market to choose from. Today's market cycle is a marked departure, with a slower pace of sales and more selection to choose from," Lis said. "This environment provides buyers and sellers more time to conduct home inspections, strata minute reviews, and other due diligence. With the possibly of yet another rate hike by the Bank of Canada this December, it has become even more important to secure financing as early in the process as possible."

For all property types, the sales-to-active listings ratio for October 2022 is 19.3 per cent. By property type, the ratio is 14.3 per cent for detached homes, 21.6 per cent for townhomes, and 23.2 per cent for apartments.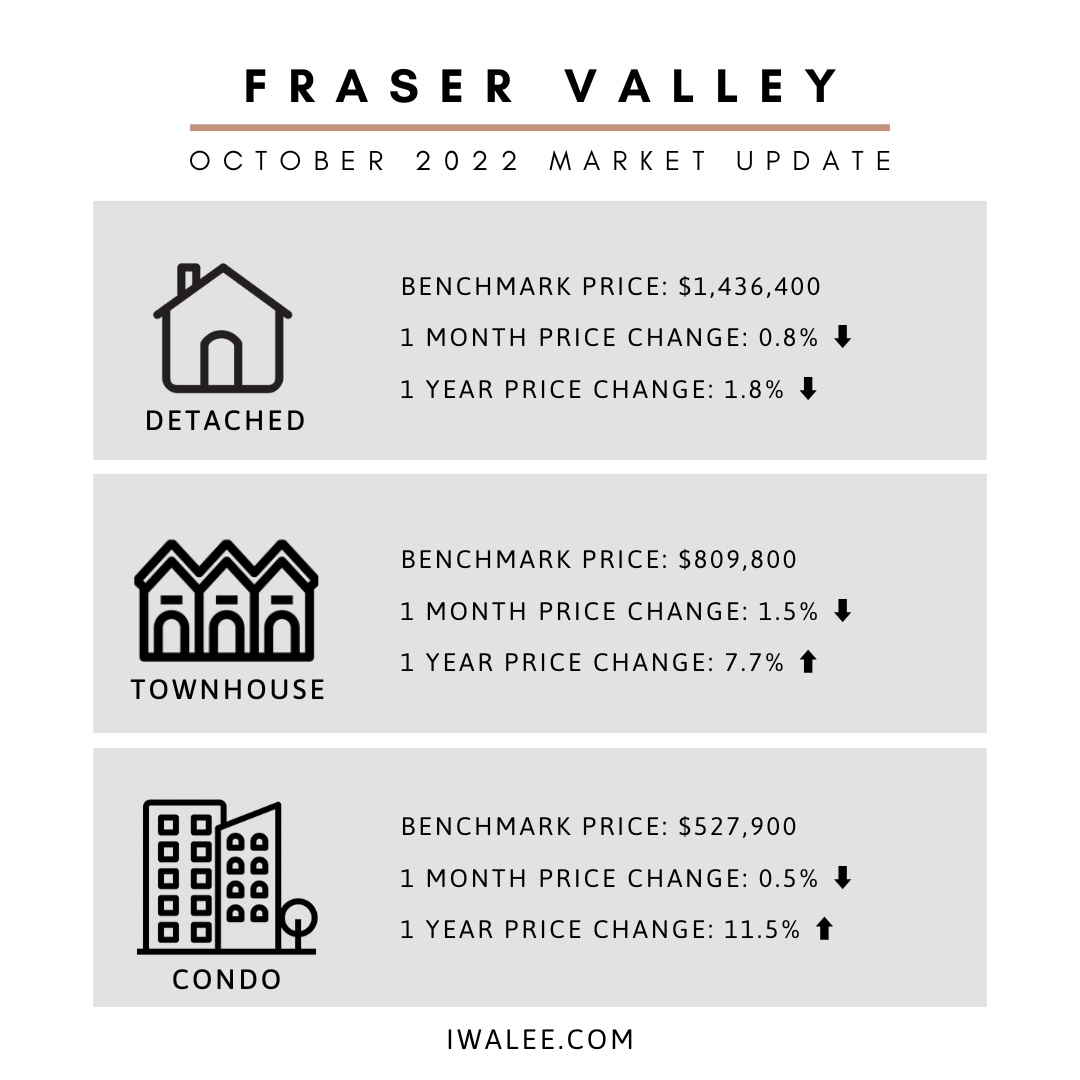 Housing prices remain soft, sales flat, throughout the Fraser Valley.
Fraser Valley housing market sales for October remained relatively unchanged from last month as prices dipped slightly across all categories.
In October, the Fraser Valley Real Estate Board (FVREB) processed 901 sales on its Multiple Listing Service® (MLS®), an increase of 0.4 per cent compared to last month and a 53.5 per cent decrease compared to this time last year.
The Board received 2,186 new listings in October, a decrease of 3.8 per cent compared to September, and on par with October 2021. The month ended with a total active inventory of 5,642, a decrease of 2.8 per cent from last month but up 63.7 per cent compared to October 2021.
With a sales-to-active listings ratio of 16% the overall market was again balanced for the fifth straight month after a prolonged sellers' market earlier in the year. The market is considered balanced when the sales-to- active listings ratio is between 12% and 20%.
"These trends suggest that the market is looking to re-establish equilibrium in the wake of last year's intense activity and in the face of continued interest rate pressures," said Sandra Benz, President of the Fraser Valley Real Estate Board. "With sales continuing to lag and new inventory slow to come onstream, we're seeing a holding pattern regarding whether to buy or list a property and expect this to continue through to year-end."
Prices continued to soften, with month-over-month Benchmark prices down slightly across all property categories. For detached homes, prices are on par with October 2021 levels, while townhomes and apartments are up 7.7 per cent and 11.5 per cent, respectively, over 2021.
"With interest rates at their highest levels since 2006, it's understandable that buyers and sellers are hesitant," said Board CEO Baldev Gill. "Accordingly, they look to Fraser Valley REALTORS® for area knowledge and market expertise and analysis before making such a significant investment decision."
The average number of days spent on the market before selling was relatively unchanged for detached homes and apartments compared to last month (34 days and 31 days, respectively). Townhomes moved more quickly at 27 days (compared to 32 days in September).
Get in touch with Iwa if you want to know specifically about any areas, property types, or trends that you can take advantage of.