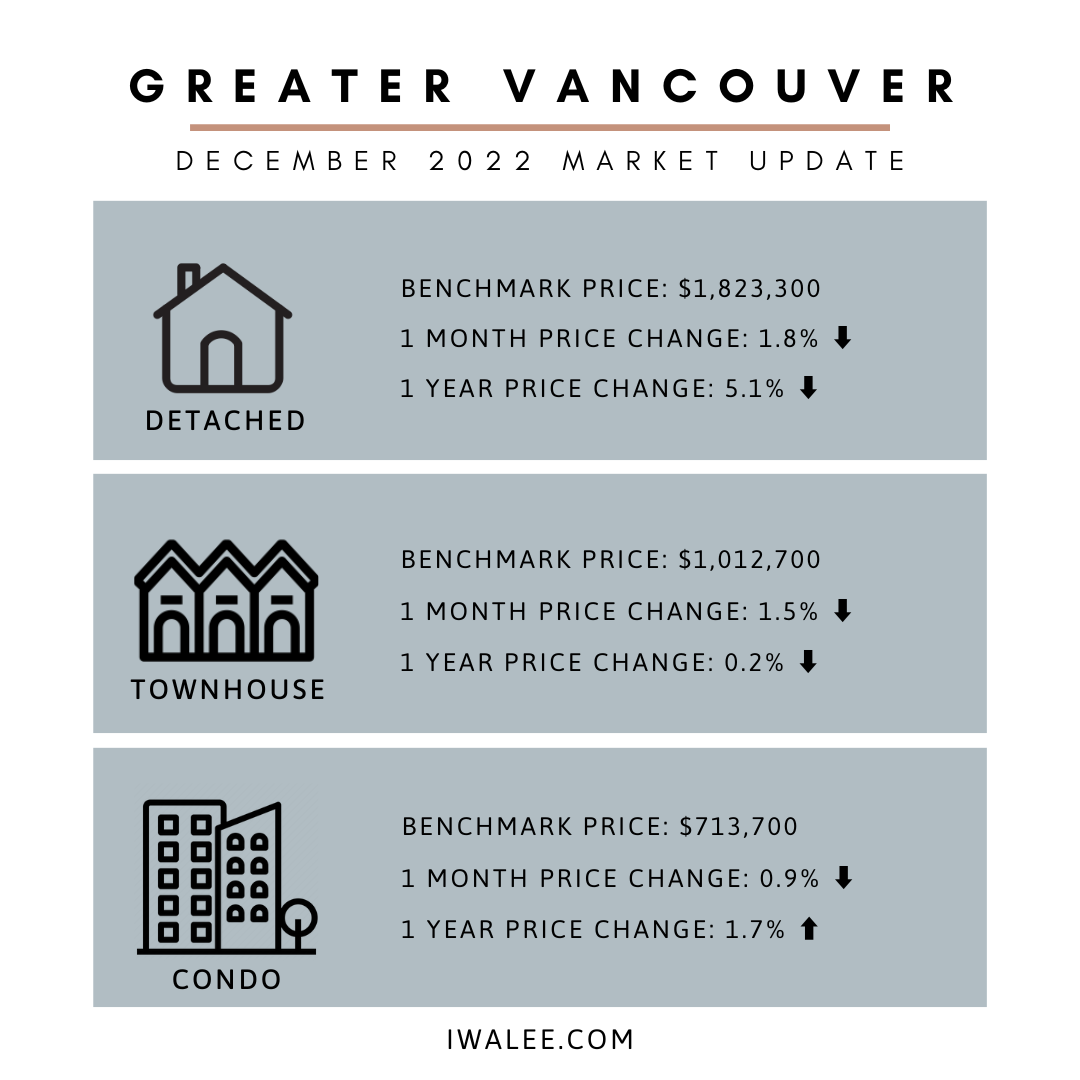 After seeing record sales and prices during the pandemic, Metro Vancouver's* housing market experienced a year of caution in 2022 due to rising borrowing costs fueled by the Bank of Canada's ongoing battle with inflation.
The Real Estate Board of Greater Vancouver (REBGV) reports that residential home sales in the region totalled 28,903 in 2022, a 34.3 per cent decrease from the 43,999 sales recorded in 2021, and a 6.6 per cent decrease from the 30,944 homes sold in 2020.
Last year's sales total was 13.4 per cent below the 10-year sales average.
"The headline story in our market in 2022 was all about inflation and the Bank of Canada's efforts to bring inflation back to target by rapidly raising the policy rate. This is a story we expect to continue to make headlines into 2023, as inflationary pressures remain persistent across Canada,"
Andrew Lis, REBGV Director, economics and data analytics
Home listings on the Multiple Listing Service® (MLS®) in Metro Vancouver reached 53,865 in 2022. This is a 13.5 per cent decrease compared to the 62,265 homes listed in 2021 and a 0.8 per cent decrease compared to the 54,305 homes listed in 2020.
Last year's listings total was 3.2 per cent below the region's 10-year average.
The total number of homes currently listed for sale on the MLS® system in Metro Vancouver is 7,384, a 41 per cent increase compared to December 2021 (5,236) and a 19.6 per cent decrease compared to November 2022 (9,179).
The MLS® Home Price Index composite benchmark price for all residential properties in Metro Vancouver is currently $1,114,300. This represents a 3.3 per cent decrease over December 2021, a 1.5 per cent decrease compared to November 2022, and a 9.8 per cent decrease over the past six months.
"Closing out 2022, the data show that the Bank of Canada's decisions to increase the policy rate at seven of the eight interest rate announcement dates in 2022 has translated into downward pressure on home sale activity and, to a lesser extent, home prices in Metro Vancouver," Lis said.
"While the consensus among many economists and forecasters suggests the Bank of Canada may be near the end of this tightening cycle, rates may remain elevated for longer than previously expected since the latest inflation figures aren't showing signs of abating quickly. We'll watch the 2023 spring market closely to see if buyers and sellers have adjusted to the higher borrowing-costs and are participating more actively in the market than we have seen over the last 12 months."
Fraser Valley real estate market 2022
–
highs, lows, and a return to balance
SURREY, BC – In a year that saw prices peak early on, feeding off the momentum of record-breaking sales in 2021, the Fraser Valley real estate market came back down to earth by the close of 2022, due largely to interest rate increases designed to stave off inflation.
The Fraser Valley Real Estate Board (FVREB) processed 716 sales on its Multiple Listing Service® (MLS®) in December 2022, down 14.7 per cent from the previous month and down by 60.4 per cent compared to the same month last year, making it the lowest December sales recorded in the last 10 years.
The Board received 803 new listings in December, a decrease of 52.8 per cent compared to November, and 37.2 per cent fewer than December of last year. Total active listings for December stood at 3,923, down by 26.4 per cent compared to November, but nearly double (100.5%) compared to December 2021.
The year closed out with a total of 15,273 sales, just over half of 2021's record-setting 27,692 and the ninth-lowest annual tally of the past decade. New listings were down 8.9 per cent at 32,442 compared to 2021.
With a sales-to-active listings ratio of 18 per cent, the overall market closed out the year in balance (the market is considered balanced when the sales-to-active listings ratio is between 12 per cent and 20 per cent.).
"As the market has adjusted to rate hikes, we're starting to see a resumption of interest among the public," said Sandra Benz, President of the Fraser Valley Real Estate Board. "For some time, buyers and sellers alike have delayed decisions in somewhat of a watch-and-wait mode. This has dampened sales as well as supply since fewer new listings come onto the market. We expect activity to pick up in the coming months as this pent up supply and demand starts to emerge."
Benz added that, under more stable market conditions, there will be strong opportunities for well-priced, well- positioned properties across all categories.
Home prices peaked in March of this year, with the Benchmark price for a detached house hitting a record $1,776,700 before closing out the year at $1,377,200. The composite Benchmark price (all property types combined) finished the year under one million at $955,700.
"If the real estate market has shown us anything this year, it's that we must be prepared to adjust and adapt to uncertainty," said Board CEO Baldev Gill. "Market reaction to the many variables at play – be they interest rates, regulatory changes or supply chain issues, for example – is tough to predict at the best of times. It requires detailed analysis and intimate knowledge, often down to the street level, to fully evaluate. Only a professionalREALTOR® can provide the kind of intelligence required to ensure a decision to buy or sell is made with clients' best interests in mind."
Get in touch with Iwa if you want to know specifically about any areas, property types, or trends that you can take advantage of in 2023.